What is NIST compliance?
NIST or the National Institute of Standards and Technology is a US government agency that creates standards and technology to help US organizations in the fields of technology and science become more competitive and innovative. This government organization also develops guidelines and requirements for federal agencies that help them comply with the standards set by the Federal Information Security Management Act. The Institute also helps government organizations achieve better security and protect their information in a cost-effective manner.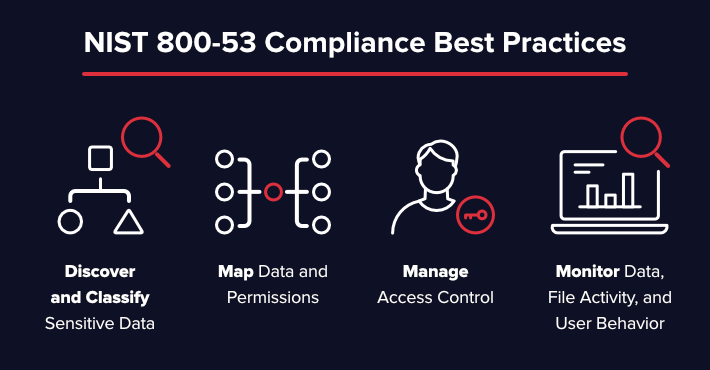 What is required for NIST compliance?
Essentially, NIST develops cybersecurity guidelines that are endorsed by the US government and widely regarded by private and government organizations as the golden standard of cybersecurity best practices. Standards set by NIST are widely adopted by agencies and organizations in the US. One such standard is the NIST Cybersecurity Framework.
Compliance with NIST security recommendations often makes it easier for agencies to achieve compliance with other security standards, including SOX, FISMA, and HIPAA. NIST also develops recommendations to help agencies achieve compliance with the standards listed above.
What are the benefits of NIST compliance?
The main benefit of becoming compliant with NIST guidelines is that you can be certain that your company's security infrastructure is safe and secure. It also allows companies and organizations to lay the groundwork for becoming compliant with other federal regulations and security standards in the future. Additionally, private and public companies strive to achieve NIST compliance in order to get the chance to work with government agencies.
Frequently asked questions
Is NIST compliance mandatory?
Yes, if you work with federal agencies or companies that are part of the federal supply chain, you must achieve and maintain NIST compliance.
How much does NIST certification cost?
On average, organizations pay anywhere from $5,000 to $15,000 to be assessed for NIST compliance. If issues that need to be remediated are uncovered during the assessment, it can cost from $35,000 to $115,000 to fix them.
Who needs to be NIST compliant?
NIST compliance is required for all government agencies, government contractors, and sub-contractors. Therefore, if your business works with the US government or with another business that has contracts with the government, NIST compliance is required for you.