We investigate cybercrime and analyze digital evidence.
The goals of digital forensics investigations are determining the motive for a crime and finding its perpetrator, recovering and analyzing digital devices and digital information to present it as evidence in court, recovering files that have been erased, etc.
Stages of digital forensics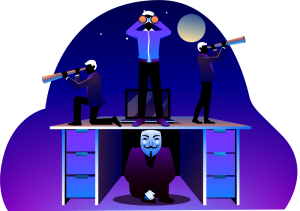 Documentation stage
Investigators document the evidence by creating a record of all visible data. This helps visualize the crime scene and makes the review process simpler.
Reporting stage
Investigators create a detailed, easy to comprehend report to summarize and explain the conclusions reached during the investigation.
Identification stage
Relevant digital evidence is identified and located.
Preservation stage
Digital forensics professionals isolate the information or digital device and take steps to secure and preserve the evidence.
Analysis stage
The evidence is examined and reconstructed. Based on this, agents involved in the investigation draw conclusions relevant to the investigation.